Five Things: March 28, 2014
Welcome to the first installment of Five Things! Every Friday Mary Beth and I will be sharing five things that makes our lives a little lovelier. Expect the five things to vary wildly: books, recipes, places, people. This is where we are going to get a little personal and let you know what our inspired lives look like. So what have I been totally loving this week?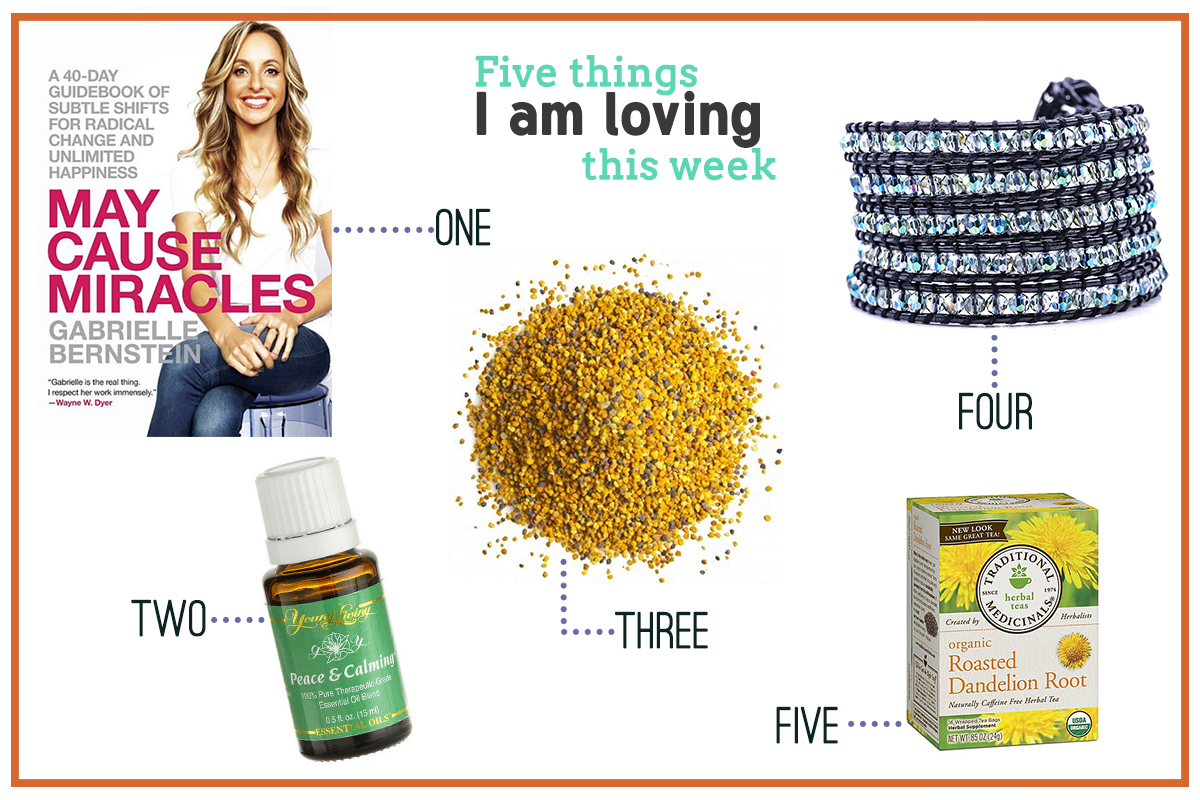 1. 

May Cause Miracles

 by Gabrielle Bernstein
This book is awesome. Seriously. Go buy it. In May Cause Miracles, Gabrielle Bernstein leads you through 42 days of change. She takes it slowly, don't worry. Each day there is a new focus that comes with a guided meditation and some mindfulness or reflection activities. If you are feeling stressed out, overwhelmed, a little (or a lot) lost, or less than content with your life, I highly recommend picking up a copy. Her words are compassionate, her advice is accessible, and with her guidance positive change feel like a natural movement.
2. Peace and Calming Essential Oil by Young Living
You guys, this stuff is so good. I've been diffusing it nightly (and sleeping like a baby), wearing it as perfume, rubbing it on my feet, putting it in my bath. It helps to put me in a pretty blissed out state. Also, I've been diffusing it during my yoga classes and my students have been digging it. I'll be honest, I may have gone a little overboard with it this past week. It has a light, citrusy scent that is kept from being too sweet with some woodsy undertones. It is a combination of Tangerine (Citrus nobilis), orange (Citrus aurantium), ylang ylang (Cananga odorata), patchouli (Pogostemon cablin) and blue tansy (Tanacetum annuum). It is lovely, to say the least. If you want some, you can get it here.
3. Bee Pollen
I have a new favorite superfood: bee pollen. I am using organic, local bee pollen from Stakich. Bee Pollen contains a crazy amount of amino acids beneficial nutrients. It has been used for centuries as a supplement to increase energy, endurance, and longevity. Additionally, it is supposed to be great for digestion and weight management. I find that when I add a teaspoon or two into my morning smoothies, my energy does feel more stable throughout the day. Plus, it has a nice sweetness to it. Want to learn more? Dr. Mercola has a really in-depth analysis of bee pollen. 
4. My super awesome Victoria Emerson Wrap Bracelet
I am a magpie: I love shiny things. This gorgeous bracelet is just shiny enough to make me smile every time I see it on my wrist, and still subtle (and sturdy) enough to wear pretty much 24/7. For all of my vegan friends, Victoria Emerson has a vegan line made just for you! I got the Vegan Green Hint (pictured above). Bonus– she is having a sale right now! I love a good deal.
5. Roasted Dandelion Root Tea
I tried this tea recently because it is commonly recommended as a good tea to drink while detoxing. Seeing how I am a detox junkie  aficionado, I needed to check it out. Plus, I have been thinking I may have low hydrochloric acid in my stomach, and bitters (such as dandelion root) are supposed to help treat that. I am so glad I did try it out! It has a rich, nutty flavor. I've given up caffeine (95% of the time), and a mug of this delicious tea fills the void left by my morning Earl Grey. I put just a bit of honey in it. Health wise, it has a ton of benefits. It is a mild diuretic that helps the kidneys clear out waste, salt, and excess water. It also fights bacterial growth (that leads to UTIs) in the urinary tract. Dandelion Root promotes liver and gallbladder health. It increases bile production, and soothes inflammation, making it perfect for anyone who is having gallbladder issues. All in all, this tea is definitely a winner.
So, what should I tell you about next week? Let me know in the comments!