Summertime Salad Series: Mediterranean Quinoa Salad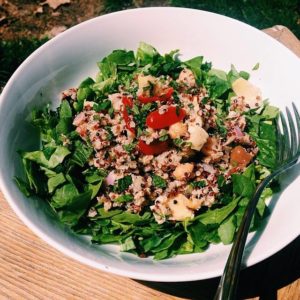 To me, summertime is all about salads. That being the case, I am going to be sharing many of my favorite salad recipes with you this summer! I know, I know. It is super exciting. You can hardly wait! You want all of the salad recipes.
To kick things off, I am going to be sharing with you the simple, quick, and totally delicious Mediterranean Quinoa Salad. I like it best served cold on a bed of power greens, but it is also fantastic warm. You can also turn it into a hearty main dish by throwing a chicken or lamb kebab on top, or a grilled portobello mushroom. See? It's versatile. This is why I love it.
This is a great picnic/potluck/party salad. It's a crowd pleaser, plus it only takes 25 minutes to make. So, let's get to it!
Mediterranean Quinoa Salad
serves 6-8
2 cups organic quinoa (I love the tricolor blend because it looks so darn pretty, but just red or white quinoa is great too!)
1/2 red onion, diced
1/4 cup parsley, minced
2 tbsp mint leaves, minced
1 cup cherry tomatoes or 1 big tomato, seeds removed and chopped
1 can garbanzo beans, drained and rinsed very well
1/2 cup kalamata olives, chopped
8 artichokes hearts, chopped
1/2 red bell pepper, chopped
2-3 lemons, juiced
2 tbsp organic extra virgin olive oil
sea salt + pepper
optional:
1/2-3/4 cup crumbled feta cheese
How to make it
1) Cook quinoa according to directions.
2) While the quinoa is cooking, get out your favorite knife and cutting board. We have work to do. Chop the onion, parsley, mint, tomatoes, olives, artichoke hearts, and bell pepper.
3) Drain and rinsed the garbanzo beans. Juice the lemons into a little bowl.
4) Chances are your quinoa is now done cooking. Fluff and remove to a large bowl. You can let the quinoa cool a bit, or you can just add everything in right away. I'm impatient, so usually I go with the latter option. So, add into the quinoa the veggies, herbs, and garbanzo beans. If you are using feta cheese, add that too.
5) Now we dress the salad. Toss in most of the lemon juice, and the olive oil. Combine well. Taste. Needs some salt, probably. So go ahead and salt and pepper to taste. If it needs more lemon juice, add some more of that too! And that's it. You're done.
Enjoy!