Summertime Shrimp Tacos + Mango Salsa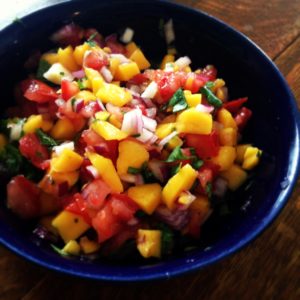 So, it got up to 47 degrees this past week, which is about 70 degrees warmer than it was a few weeks ago. It was practically flip-flop weather, and I was definitely in the mood for something light, fresh, and summery. I was also in the mood for tacos. Then again, I am almost always in the mood for tacos.
I've got to say though, this Mango Salsa was definitely the belle of the ball for me. You've got to make some, ASAP.
Ingredients for shrimp:
1.5 pounds of small shrimp, raw, deveined, and tails off
2-3 tbsp grapeseed oil
4-5 tbsp flour, gluten-free (any fine flour blend would work here or you could go with brown rice, sorghum, white rice, or even arrowroot starch.)
2 tsp cumin
2 tsp garlic powder
2 tsp salt
2 tsp pepper
1 tsp chili powder
1/2 tsp cayenne, optional but encouraged if you like it spicy
12 tortillas
Ingredients for Mango Salsa:
1 mango, peeled and chopped
1/3 medium red onion, chopped
1 large tomato, de-seeded and chopped
1/2 lime, juiced
1-2 tbsp fresh, chopped cilantro
salt, pinch or two
For garnish:
queso fresca or cotija cheese
chopped cilantro
finely chopped cabbage or romaine
avocado slices
lime wedges
To make:
1. Make the salsa! Combine all salsa ingredients in a bowl. Set aside. Try not to eat it by the spoonful. I challenge you.
2. Make the shrimp! Rinse your shrimp and dry very thoroughly. I mean it, now. If you want your shrimp to get crispy and amazing, make sure your shrimp are very dry.
3. Next, in a small bowl combine cumin, garlic powder, salt, pepper, chili powder, and (maybe) cayenne. Place the flour in another small bowl. Coat shrimp in the spice mixture first, and then lightly dredge through the flour.
4. Heat the oil in a large, heavy bottomed skillet over medium-high heat. We want the skillet hot enough to make the shrimp crispy, but not so hot so that they get burned. Find the middle way. Once the oil is hot, add the shrimp (in batches) and brown on each side for 2 minutes. Remove the shrimp to a paper towel lined plate.
5. Assemble your tacos with the amazing mango salsa, lettuce, avocado, cheese, and anything else you'd like. Don't forget to squeeze some lime juice over them right before eating. Enjoy!